In case you are a crypto investor or buff you must have come across the phrase Crypto Airdrops. But have you ever done really good research on it?  In Crypto world what are Airdrops? Do you know why Airdrops are being done and most importantly are you aware that Airdrops can make you rich?
This article will let you know all about Airdrops.
You will find out what Airdrops are and why ICOs conduct Airdrops. And most importantly how you can join Airdrop events to earn some free money (though in the form of cryptocurrencies/tokens) by the end of this article.
What is an Airdrop in Crypto World?
Airdrops are events where free tokens or coins are distributed by a blockchain project (ICO) to the community.
ICOs give out a percentage of tokens to the people who take part in the Airdrop.
However, these Airdrops, comes with certain requirements and tasks that you need to follow. Every Airdrop has different rules and hence, all cannot be generalized. You will come to know more about the tasks associated with these Airdrops in the next few sections of the article.
Why are Airdrops Conducted?
Probably, the question that you have in your mind is why these projects and ICOs giveaway tokens or cryptocurrencies for free?
Airdrops are always a win-win for both the people (community) and the project owners/teams members/developers.
Usually, these Airdrops are conducted to create awareness about the project or the ICO. It attracts people towards their project which in turn aid them get more investors during their ICO sale.
Furthermore, people put more value on things that they own. If a particular token is distributed to thousands of people for free, they will start valuing it more. In turn, it may lead to increase in token price/value (at later stages).
Communities matter a lot when we talk about an ICO or a Cryptocurrency. The stronger (and bigger) the community, the better the future of the Coin.
And giving away free tokens is one of the best ways of building a bigger community.
Apart from that, ICOs get many more benefits of conducting an Airdrop.
Here's a list of few other benefits!!!
Online Media Attention:With dozens of ICOs coming monthly, it is becoming difficult for ICOs (and other projects) to get attention. Airdrops aid them get attention as these Airdrops get covered by many websites, YouTube Channels, and social media.
Free Marketing:A new ICO has to spend thousands of dollars on marketing their project (or ICO Sale). They need to expend money on Paid advertisements, paid listings, paid posts, and so on. They essentially can cut their marketing budget with such Airdrops, as these Airdrops spread like wildfire (only if the Airdrop is worth joining).
Apart from the community building part, these were two major benefits.
Are Crypto Airdrops Scam and Illegal?
In general, Airdrops are not scams.
With so many ICOs coming up, however, there might be many who are just scam. In that case, these scam ICOs may conduct fake Airdrops.
You still don't have to worry as Airdrops are always free and do not cost you any money. In case any airdrop asks you to send some money/tokens then it's surely someone trying to scam you.
Crypto Airdrops are not scams in general. You can easily join them to get some free tokens or coins.
Value of a Crypto Airdrop
ICOs and Crypto Projects decide a fixed number of coins/tokens to Airdrop. This varies from project to project, but most ICOs giveaway 5-15% of tokens in the form of Airdrops and other Reward programs.
While on the other hand, many ICOs don't even do an Airdrop.
So the number of tokens to be airdropped always varies.
The value of each airdropped token is another thing that may interest. The Airdrops are usually done when the project is at a very early stage. Most of the time, it is done before the pre-sale of the ICO.
So at that point, the value of each Airdrop is quite less or just 0.
After seeing so many airdrops happening around, most of the Projects give away $5-20 worth of coins to each Airdrop participant (Excluding the referral amount that each participant can further earn).
However, here's the catch….
In case the project gets a good start and if the ICO goes well as per the plan, the value of each Airdropped token can increase significantly. And that's how you can make bigger profits.
Take a look at this example,
Unboxed is an interesting project that just announced their Airdrop. The ICO date is yet to be confirmed but they started their Airdrop in which they are giving tokens (they call it NBOX) of up to $1 million. 
They have set the value of 1 NBOX token to $0.057. So if you have 250 NBOX tokens, its worth is 250*0.057=$14.25. 
After the ICO sale, NBOX will get listed on various exchanges for trading and that's when you can trade your NBOX Tokens. Once trading starts, the price will start fluctuating. It is then up to you whether you wish to sell the token or not. Usually, if a project looks promising you can expect good returns after a few months. 
You might be wondering, How much can I earn? How much can I make from Airdrops? Can I make $1000?
How much can you Earn from Crypto Airdrops?
You can earn $1000! Yes, you can make $5000 and yes you can earn $10000.
Don't assume every Airdrop will make you rich. Some tokens will be worth nothing. Some Airdropped tokens would just buy you a burger. But among all of them, there will be some that can make you rich.
Some of the Biggest and Most Profitable Crypto Airdrops
Here are some of the most profitable Airdrops.
Ontology Airdrop
So far, Ontology (ONT) project did 3 Airdrops. Thier first Airdrop was the biggest and is too hard to be true.
People, who signed up for Free ONT Email Newsletter On January 2018, were awarded 1000 ONT tokens. (Users had to simply fill email id and submit a simple KYC form).
Back then ONT just started and the value of these tokens was absolutely nothing.
Today in May 2018, 1 ONT is worth $8. In fact, this price once went up to $10 per ONT token.
You can do the math now. People who participated in that Airdrop now hold ONT Tokens of worth $8000.
In this case, People who waited for 1-2 months got the best result.
EXRN Airdrop
EXRN gave away 10 million tokens to everyone who joined the Airdrop. Though this project didn't do any good but it did reach at a point that many people made profits by selling the 10 million tokens that they got from the Airdrop.
REBL Airdrop
Rebellious coin was Airdropped last year in November. Participants received 2000 REBL tokens(plus referral).
After the token hit the exchange, the coin performed well and reached an all-time high of $0.3 per token.
Today the value is $0.07 which is quite less compared to the all-time high, however even today the value of 2000 tokens is $140.
Sugar Exchange Airdrop
In late 2017, SGR gave away 1000 tokens to every Airdrop participant. Today the price of 1 SGR token is $0.1 which makes it worth $100.
But people made more in this airdrop.
A few weeks after hitting the exchange, the price peaked at $1.16. Some people sold at that rate and made $1000 from it.
How to Find Crypto Airdrops
Well, these days it is not hard to find Airdrops (after all Airdrops have referral programs)
You can find Airdrops from;
Social Media: Telegram Channels, Facebook Groups related to cryptocurrencies are often filled with various Airdrop links.
Airdrop Alert Websites:There are many sites that share latest Airdrop Alerts. I myself developed one and here's how it looks.
The site name is TrackAirdrop and you can find all the latest and upcoming Airdrops that you can join for free.
The best part about TrackAirdrop.com is that is very simple and consists of only 1 page rather than multiple pages.
You get the list of all airdrops on a single page and this will make it easier to find and join new Airdrops.
How to Join Airdrops and get Free Tokens
Joining an Airdrop is always free. It will not take more than 2 minutes. However, you will need to have to be ready with a few things.
Requirements Before Joining Free Airdrops 
Here's what you need:
ERC20 Supported Ethereum Wallet (Mandatory)
Telegram Account (Mandatory)
NEON Wallet (Some Tokens are NEO Based)
Twitter Account
Facebook Account
ERC20 Wallet!!
Your exchange wallet will not support Airdrops (except very few). You will need an ERC20 type Ethereum wallet to receive free tokens.
Note: Most of the Airdrops (90%) are ERC20 based and therefore this guide is focused only on Airdrops that support ERC20 tokens. 
Making an ERC20 Wallet is not tough either and that's what you learn in the next section.
Setting Up ERC20 Wallet to Collect Airdrops
In simple words, ERC20 Supported wallets are Ethereum Wallets that supports both Ethereum and ERC20 Tokens.
Making one such wallet is quite easy. Follow the step by step instructions to make one.
Step 1: Go to MetaMask Official Site and Download its Chrome Extension.
(They also have add-ons for Firefox and Opera.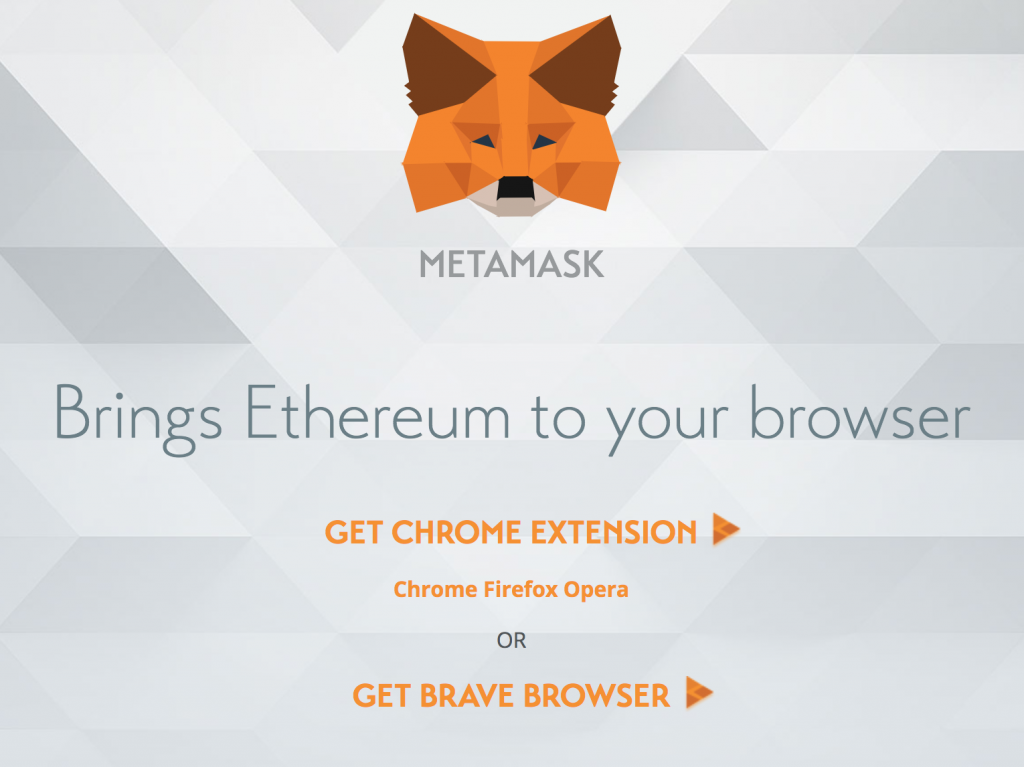 Step 2: Install the Extension on your Browser. Click on the MetaMask icon after installing it, on your chrome browser.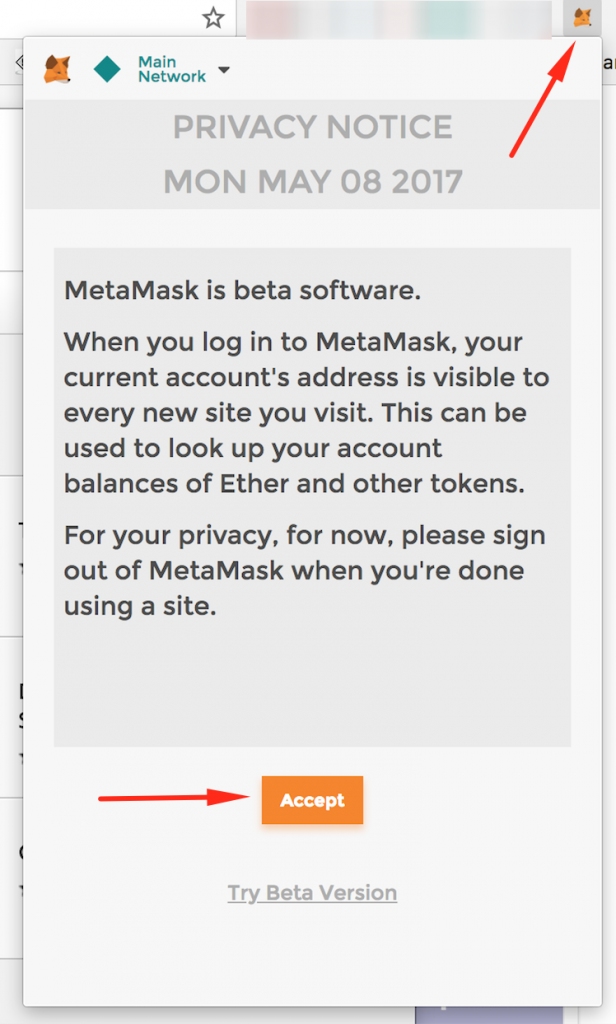 Step 3: Accept the terms and conditions. Give a password to your MetaMask account. Do not forget this password. Make sure to keep this password secure.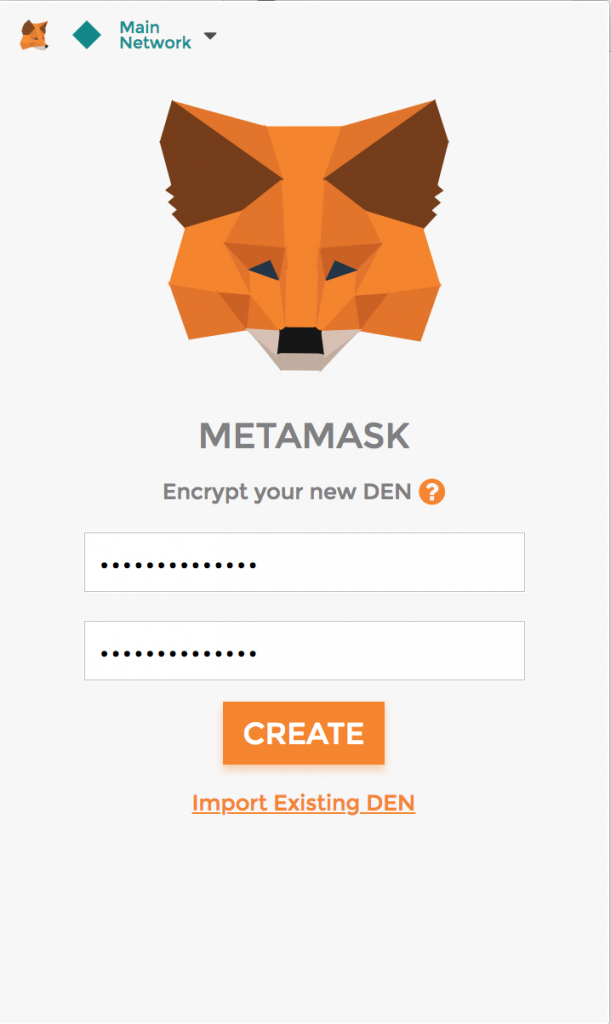 Step 4: After you click on Create Button, it will give you your Seed Words. Save the seed words file securely. Don't lose this. Seed words are used to restore your metamask account.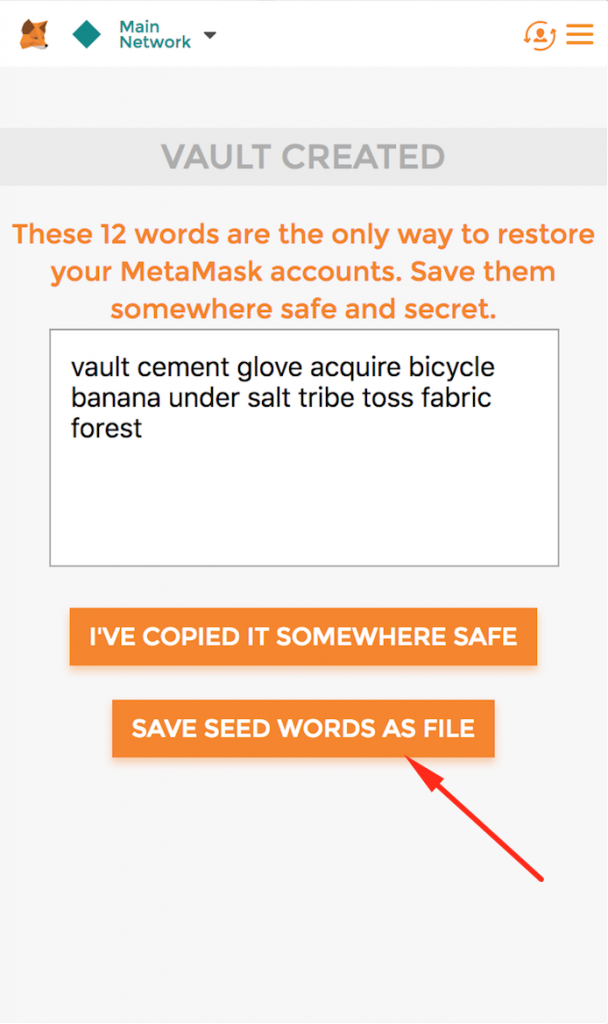 Step 5: After saving your seed words, click on "I've Copied it Somewhere Safe" button.
Your account is now ready. Here's how it will look;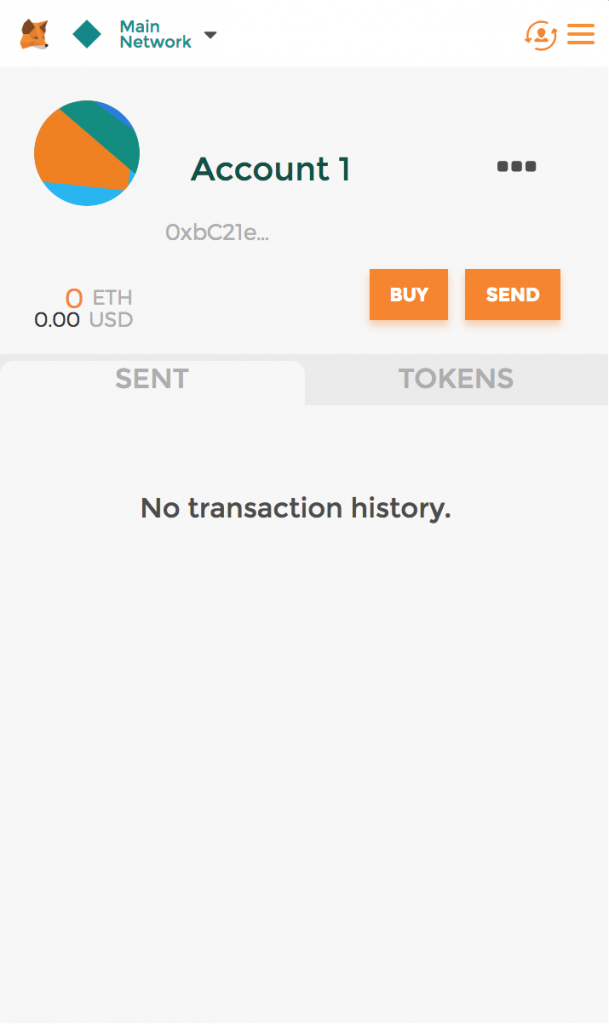 Step 6: Click on MetaMask Icon and export your Private Keys.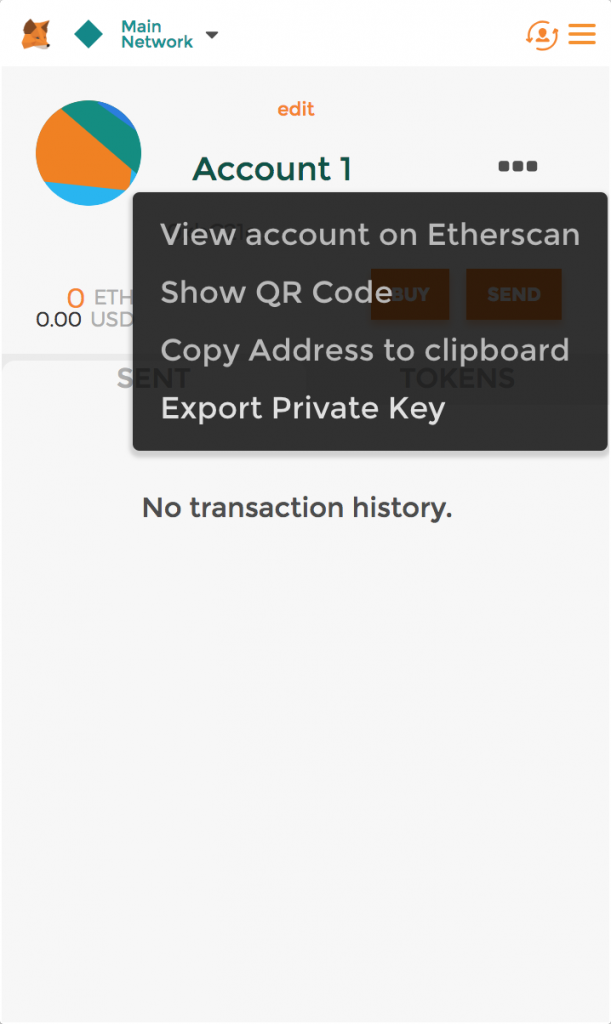 Save your private key in a secure manner as losing it may cause you to lose your funds.
Accessing your ERC20 Ethereum Wallet
Now that your wallet is created, you can access it to send or receive tokens. You can either access the wallet directly or you can use MyEtherWallet.com to access your wallet.
To access your wallet directly, you just have to click on the MetaMask icon on your browser. It will show your funds and the address.
To copy your ERC20 Wallet address, click on the button beside your account name. (As shown below).
Click on "Copy Address to Clipboard" button to copy your wallet address. This is the address you have to enter in Airdrop forms.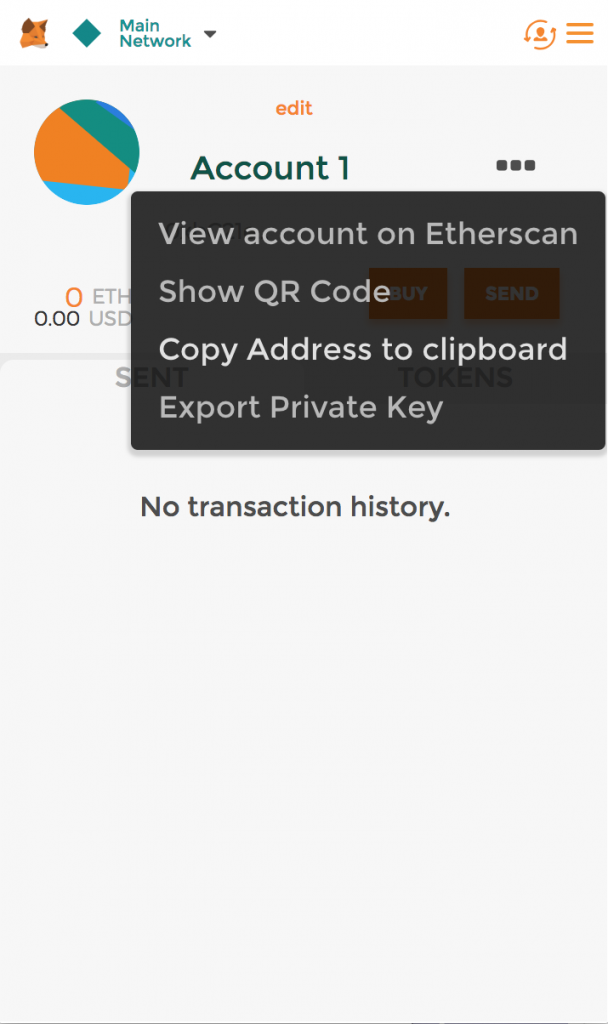 You don't have to login MetaMask again and again, just keep your Address copied in a file and use it whenever it is required.
How will you Know if you Receive any Tokens from Airdrop? 
Go to https://etherscan.io and enter your Wallet Address. Once you receive any tokens,
You can also go to https://ethplorer.io to check your balance.
Usually, Airdrop tokens are distributed after 30-90 days of the Airdrop. So be patient with that. 
Once you see a token, you can transfer it to your Wallet using MyEtherWallet.com. And from there you can easily transfer it to an exchange.
Conclusion
Crypto Airdrops are massively becoming popular and thus it is not easy to figure out the best ones. Moreover, doing research on each Airdrop would simply waste your time. It is recommended you to simply spend 10-15 minutes to join a few airdrops regularly. 
Who knows you may end up with some tokens worth $$$$.
Apart from this, Airdrops are always free. If any Airdrop asks you to deposit some amount, ignore the Airdrop. Also, never share your Seed Words or Private keys while joining any airdrop. There are many people scamming around in the name of Airdrops, so be careful.
Some Airdrops require you to hold some ETH (Or other coins) in your wallet. So you can keep some amount of ETH on your ETH Wallet to make sure that you receive tokens from every Airdrop that you join.
The process is almost the same NEO supported Token Airdrops. The only difference is, you need to have a NEO wallet in order to receive such tokens. Making a NEO Wallet is not a tough task.
And finally, don't be in a hurry. Just join Airdrops and forget about it for a month or two. Keep tracking and Sell it only if you see a good profit.