Affiliate marketing lingo… is just like any other industry language… and understanding this terminology is important… prior to starting out on an affiliate marketing career.
We have created a THREE-PART affiliate marketing lingo guide… that just about helps you wade through the industry. Although there is much to learn… this three part guide would be more than sufficient for any newbie.
Here are a few definitions that may help you to better understand this lingo.
Learning The Affiliate Marketing Lingo… Part I.
Affiliate Marketing.
Affiliate marketing is the act of publishers and advertisers… promoting and selling products or services online. Compensation is paid through commission… and is based on performance measures… such as the number of referred sales or the total amount of sales referred. It enables you… the affiliate, to become part of a valuable marketing team.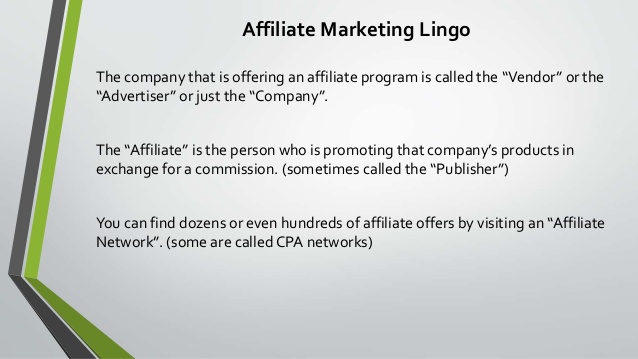 Affiliate Or Publisher.
An Affiliate, by definition is a company or person who assists the merchant in marketing their services or products. He or she is paid a commission for this service. He or she is also referred to as the publisher. In short, this is you.
Merchant /  Manager  / Vendor  / Advertiser   / Company.
A merchant, by definition is a company or person, who markets their products or services via an affiliate program on the World Wide Web. Your affiliate merchant is the company or person, whose affiliate program you market.
Affiliate Network.
An affiliate network is where hundreds of such affiliate offers are promoted. An affiliate can visit such a network, and identify suitable affiliate programs to promote. It is also sometimes known as a CPA Network. While such networks are responsible for identifying suitable affiliates, they also provide back-end support and ensure that commissions are paid on time.
Affiliate Link.
This is the hyperlink or URL, or an text or image that contains a hyperlink. It is an unique link, which will be able to identify the affiliate, when sending visitors to the affiliate merchant's site. This helps to track the traffic and the sales generated. Without it, virtually any affiliate marketing comes to a stop.
Reciprocal Link.
A link to a company on your site in exchange for a link to your company on their site. There is no monetary exchange for these links.
Affiliate Program… (Associate /  Partner /  Referral / Revenue-Sharing Program).
A program that advertises the affiliate merchant's products and services, while allowing affiliates to refer people to the merchant's site. In return for their referral, the affiliate is paid a commission.
Merchant-Affiliate Relationship.
A Merchant-Affiliate relationship is similar to a salesperson-buyer relationship. While the affiliate can be classified as an independent sales representative who promotes the merchant's services and products. The merchant is sort of the sales manager, keeping track of any incoming visitors and buyers, to determine which affiliate set up the sale.
Commission.
A commission is paid to the marketer in return for providing referrals to an affiliate merchant's site. This amount varies with regard to the outcome (i.e. sales, leads, click throughs, registrations etc.).
Two-Tier Commission.
This commission structure will pay you commission on each lead, sale or click-through, that you refer, and a commission on each sale that is referred by any affiliate/s that you've referred to the program.
Please feel free to drop a comment if you need clarification on any new terminology.
Related Posts.
Best… 🙂
Follow Us on Social Media Below (We are a Real People :)):
Subscribe To Our YouTube Channel Here
Thanks!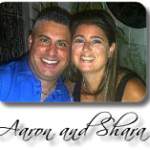 We sincerely hope that this post helps you to quickly grasp these affiliate marketing lingo.