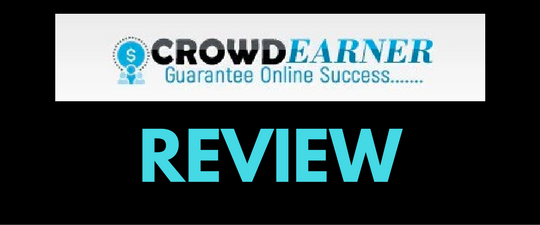 Crowd Earner Review
Token-Based Cash Gifting
There is no information whatsoever on the Crowd Earner website indicating who owns or runs the business.
Registered on September 21, 2016, the company website domain, crowdearner.net, domain registration is set to private.
As always, if an MLM company is not openly upfront about who is running or owns it, think long and hard about joining and/or handing over any money.
Crowd Earner Product Line
Unfortunately the company has no retailable products or services, and the affiliates are only capable of marketing Crowd Earner affiliate membership itself.
Crowd Earner Compensation Plan
Company affiliates make gifting payments of anywhere from $20 to $500.
These "gifting payments" in turn qualify them to receive gifting payments from other Crowd Earner affiliates, tracked via a 3×6 matrix.
A 3×6 matrix puts an affiliate at the top of the matrix, with 3 positions directly underneath.
These 3 positions form the initial level of the matrix. The 2nd level of the matrix is produced by dividing each of the 3 positions into another 3 positions each, for a total of 9 positions.
Succeeding levels of the matrix are produced in the exact same manner, with a completed 3×6 matrix holding 1092 positions.
An affiliate enters into the compensation plan by exchanging $20 into Crowd Earner tokens. These tokens are then gifted to the affiliate who enlisted them.
This $20 gifting payment qualifies the affiliate to then receive $20 from 3 subsequently recruited affiliates.
Payments across the completed 3×6 Crowd Earner matrix are below:
Level 1 – make a gifting payment of $20 and receive $20 from three affiliates
Level 2 – make a gifting payment of $30 and receive $30 from nine affiliates
Level 3 – make a gifting payment of $50 and receive $50 from twenty-seven affiliates
Level 4 – make a gifting payment of $200 and receive $200 from eighty-one affiliates
Level 5 – make a gifting payment of $300 and receive $300 from two hundred and forty-three affiliates
Level 6 – make a gifting payment of $500 and receive $500 from seven hundred and twenty-nine affiliates
Joining Crowd Earner
Crowd Earner affiliate membership is free. Though, affiliates are required to gift at least $20 to participate in the compensation plan.
Crowd Earner – My Take
This program is a person-to-person donation exchange platform where members voluntarily give donations and receive donations in multiple folds.
Under the pretext of making and receiving donations, this program functions as a 6-tier cash gifting scheme.
Obviously, the donations scam is certainly exposed, as a donation is made without any expectation of repayment.
Not to mention, payments are made on the assurance of receiving payments from other Crowd Earner affiliates. This makes it cash gifting.
"All donations you willingly and directly send to a fellow participant are final. No refunds."
The best part for them is that the use of tokens in this program means that the anonymous administrators of the scheme will receive real money in exchange for worthless points.
Unless and until those points are cashed out, any and all affiliates have not truly even earned anything, regardless of what might be shown to them.
Crowd Earner – Conclusion
So, what's the real story?
The substantial difference between token-based cash gifting and direct payments is that when Crowd Earner predictably collapses, the administrators will keep all funds attached to the tokens.
And that's not all. Withdrawal requests will be denied when the scheme inevitably collapses, even further snowballing the number of Cash Earner affiliates who will lose money.
Aaron and Shara What Do You Suggest?
That being said, if you have never marketed online or offline before, finding people could be very difficult for you.
We also think the startup cost of $100-$999 is pretty steep.
We know when we first started trying to make money online, we failed miserably and we had no idea how to recruit.
That is why, we first started out by learning how to become a good marketers.
This is the business where we learned how to become strong marketers
If you don't want to be in a business that costs $199-999 to start and requires you to host home parties or call all your friends and family to buy your stuff no worries.
We have the perfect business for you where you don't have to recruit, you don't have to own any product and oh did we mention it's ONLY $3 to start!!!
The main reason for it is you will learn step by step on how to build a profitable business online and they even cover you for products so you don't have to create anything yourself…
You will also get a one on one business coach to help you every step of the way.
Anyways, we hope you enjoyed the Review. Please comment below if you are part of this company as our readers would love to know how you are doing.
Also, if there are any products or companies out there you want us to review please let us know!
Follow Us on Social Media Below (We are a Real People :)):
Subscribe To Our YouTube Channel Here
Thanks,