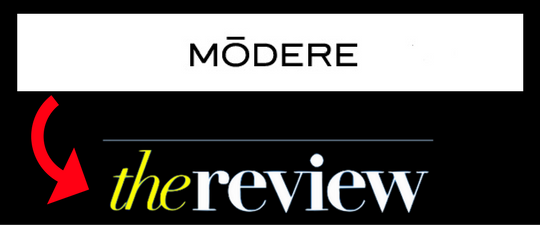 Of late, Modere has been getting tons of attention on the internet. In fact, I have had people pitching it to me on a daily basis, and it has been making the rounds on social media also.
I am NOT promoting the Modere  business opportunity as an affiliate or distributor in any way, nor have I ever in the past.
I have performed my research in this Modere review so you can learn the truth about the company.
Is Modere a scam? Is it a legitimate company?
Read further for my full review of Modere.
Modere Review – The Company
No matter who you are or what kind of shape you are in, there is an inherent part of you that intuitively wants to become or stay healthy.
Due to this fact, the personal care product niche has continued to be one of the most popular and successful niches in the world of multi-level marketing. Everybody wants products which they can use to take care of their body, etc.
The result of this is passionate sales and passionate people selling products as affiliates for these personal care product companies.
With the amount of competition in this area though, it can often be quite difficult to figure out which company is worth your time and which one is a scam within which you will lose your money. There are already lots of companies out there that have existed for a long time, and then there are the new companies that seem to be entering this market daily.
Modere Reviews
One of the most recent companies to hit the scene. Modere has been getting quite a bit of attention from sites like Facebook and Twitter, which is easily created for the most buzz in the personal care niche for the world of MLM.
One of the most thought-provoking features of Modere  is the way that they handle their marketing. Instead of spending a lot of money on traditional marketing and advertising, Modere is using a method called "Network Marketing."
Network marketing is "the act of promoting a business or product through the use of word-of-mouth and relationship marketing." It is increasingly becoming more popular as time goes on, and appears to have been a great strategy for Modere so far.
Something worth mentioning is the fact that Modere, despite seeming to be a new company, is actually a rebrand of the company "Neways International." There is not any indication as to why Modere is rebranding themselves, but a rebrand for a company is usually not a good thing.
A rebrand typically takes place when a company is not developing as fast as anticipated, and is typically a business move that is done in order to spike up activity.
Modere Product Line
As mentioned above, Modere functions in the niche of personal care products. A lot of time has obviously gone into making the products as pleasing and attractive as possible. In addition, there are plenty of diverse products for people to choose from. Some of Modere 's most prominent products include:
Body soap
Lotion
Hair-care products
Dietary supplements
Kitchen products
Energy bars
Protein shakes
Energy drinks
Skin cream
There is surely a large variety being offered, and that results in a bit of a double-edged sword. Having a lot of products to choose from absolutely opens up the door with regard to different products to choose from, however forking out to so many different areas can result in a lesser quality of product.
Not saying that the products that Modere is offering are not high quality, but rather suggesting that it's something worth keeping in mind.
Modere Compensation Plan
So, what about the Modere compensation plan? Let's take a look.
When you sign up to be an affiliate for Modere , you will become what the company calls a "Social Marketer." As a Social Marketer, you have the ability to earn an income through a bunch of different approaches.
One of the main themes that is the most noteworthy throughout the company's compensation plan is the desire to create customers that are long-term and loyal. Honestly, this is not something you see all that often in the MLM world currently, which is really a shame.
Because, by generating customers that are loyal to your products and brand, you can then safeguard that they will stay with you even when attractive competition comes along which is frequently in this market. Having loyal customers is extremely important. While short-term customers construct profit right then at the moment, long-term customers permit money to come in for a much greater amount of time.
Residual income via the sales of other affiliates does play a role in the compensation plan also, and while there is a potential to earn money there, it will take quite a bit of time to work your way up to that level. So, how about earning money right away when you become a Social Marketer?
Selling products to retail customers & earning commission from those sales will permit you to earn a couple hundred dollars every month right off the bat, but it will more than likely take between 2 to 4 years before you begin seeing real money come in with your residual income.
Modere – Conclusion
The Modere product line appears to be fairly nice and offers an abundant variety. In addition, the compensation plan places a very strong focus on holding a large amount of loyal customers throughout your downline.
If you are currently searching for an MLM opportunity that will allow you to get rich quick, Modere isn't the one. Though, if you are searching for a serious job that will allow you to work closely with customers & build up good income through the next few years, Modere is surely something that is worth considering.
Having prior knowledge of marketing and selling will definitely be great traits to have as an affiliate for Modere, as you are going to have to be comfortable with selling to people that you don't know.
If you are fine with selling to people that aren't your friends and family, and you're also comfortable not seeing huge dollars come in for at least 2 years, then Modere is certainly worth possibly joining.
Aaron and Shara What Do You Suggest?
That being said, if you have never marketed online or offline before, finding people could be very difficult for you.
We know when we first started trying to make money online, we failed miserably and we had no idea how to recruit.
That is why, we first started out by learning how to become a good marketers, but you don't have to be a good marketer at all!
We learned how to make money online WITHOUT being great marketers (Click Here To Stay Updated, And To Find Out More about HOW)!
If you don't want to be in a business that requires you to host home parties or call all your friends and recruit your family to buy your stuff no worries.
We will keep you updated where you can build a business online where you don't have to recruit anyone.
Click Here To Check This Out And See What We Mean
You will learn step by step on how to build a profitable business online WITHOUT having to market or recruit anyone else!
Follow Us on Social Media Below (We are a Real People :)):
Subscribe To Our YouTube Channel Here
Thanks,