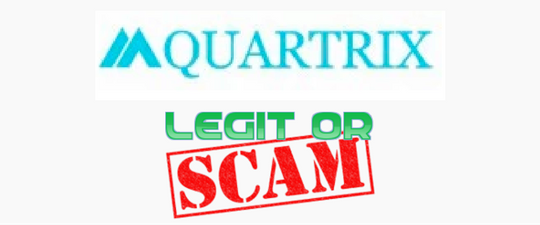 Welcome to my Quartrix Review and learn more about this Four-Tier Bitcoin Matrix Gifting Cycler.
There is no information on the companies website indicating who owns or runs the business.
Registered on September 23, 2016, the programs website domain is, quartrix.com, domain registration is set to private.
Quartrix Review
The official Quartrix Facebook page proposes that Richard Morrison is running the company.
Quartrix began as "My BitCoin Life", a bitcoin-based matrix Ponzi scheme. Approximately three weeks into the launch, My BitCoin Life went under, with Richard Morrison issuing the following statement on Facebook on September 21st:
"OK folks, I've come out of a meeting with John and we have come to the conclusion that MBL is not working. People don't seem to be promoting it or the program is not simple enough we are not sure. It could be a combination of both factors and it probably is. So as of from now MBL is closing it's [sic] doors."
One day later, Richard Morrison made an initial announcement regarding the company as follows:
"In a few days we will roll out our next BTC builder programme. We will offer full transparency of positions (Viewable), powerful re-entry plan and direct bitcoin wallet transactions."
Morrison then altered the name of the My BitCoin Life Facebook group to Quartrix on September 24, 2016.
And, not surprisingly, there are other MLM opportunities which Morrison is promoting on his Facebook page. These include Ultimate Business World (Ponzi points), SmashCoin (HYIP), The Billion Coin (HYIP), THW Global, (recruitment), BeOnPush (collapsed Ponzi scheme), CommHubb (unregistered securities) and Smash Fund (pyramid scheme).
Morrison's Facebook profile was only formed back in April of this year and was instantly used to start promoting various schemes. I suspect it might be an alias.
Read on for a complete review of the Quartrix MLM opportunity.
Quartrix Product Line
The Program has absolutely no retailable products or services and affiliates are capable of marketing the affiliate membership itself.
Quartrix Compensation Plan
The compensation plan has affiliates buy $20.00 positions in a 4-tier 1×3 matrix cycler.
The 1×3 matrix puts an affiliate at the top of the matrix, with 3 positions directly underneath them.
When these positions are filled, the affiliate's position "cycles" and a commission is paid.
Below are the resultant commission payouts for Quartrix's matrix cycler:
Matrix 1 (positions cost $20) – generates a new Matrix 1 position and cycles into Matrix 2
Matrix 2 – $20 commission, generates a new Matrix 2 position and cycles into Matrix 3
Matrix 3 – $40 commission, generates a new Matrix 3 position and cycles into Matrix 4
Matrix 4 – $160 commission and generates a new Matrix 4 position.
Cost To Join Quartrix
The company affiliate membership is completed by a purchase of at least one $20.00 matrix cycler position.
Quartrix – Conclusion
The website says:
"INNOVATIVE MATRIX DESIGN TO MAKE $20, $40 AND $160 OVER AND OVER, OVER AND OVER, OVER AND OVER AGAIN! TURN $20 INTO THOUSANDS!"
I would have to make an educated guess that having lost who knows how much money in the various scams he's joined this year, Richard Morrison decided to launch My BitCoin Life in an effort to recoup his personal losses.
The My BitCoin Life was a catastrophe. Now he's trying his luck again with Quartrix.
Quartrix pools cash gifting with the system of a matrix cycler Ponzi.
Monies are gifted among company affiliates through bitcoin, with a single run via the cycler with a $20.00 investment generating a $220.00 ROI.
Again, the same as My BitCoin Life, as soon as recruitment end, Quartrix will also end. Moreover, Quartrix's use of bitcoin means victim recovery efforts will be mostly unheard of, because if you don't personally know the person who invited you into Quartrix, you're pretty much on your own. Good luck with that!
Works out wonderful for Richard Morrison and his scamming friends, but awful for the rest of the Quartrix affiliate-base.
Aaron and Shara What Do You Recommend?
That being said, if you have never marketed online or offline before, finding people could be very difficult for you.
We also think the startup cost of $100-$999 is pretty steep.
We know when we first started trying to make money online, we failed miserably and we had no idea how to recruit.
That is why, we first started out by learning how to become a good marketers.
This is the business where we learned how to become strong marketers
If you don't want to be in a business that costs $199-999 to start and requires you to host home parties or call all your friends and family to buy your stuff no worries.
We have the perfect business for you where you don't have to recruit, you don't have to own any product and oh did we mention it's ONLY $1 to start!!!
The main reason for it is you will learn step by step on how to build a profitable business online and they even cover you for products so you don't have to create anything yourself…
You will also get a one on one business coach to help you every step of the way.
Anyways, we hope you enjoyed the Review. Please comment below if you are part of this company as our readers would love to know how you are doing.
Also, if there are any products or companies out there you want us to review please let us know!
Follow Us on Social Media Below (We are a Real People :)):
Subscribe To Our YouTube Channel Here
Thanks,