Welcome to our Sendy review!
You must have an idea about Email Marketing. That's why you are here.
The primary concern with internet marketers is, once they begin to build the email list they find it hard to afford the cost of Email marketing service. In spite of all the efforts put into their website, this is where lot of beginners fails to build list. Though you will find some free email services, they charge after a limit and are limited to certain features.
So, what if there was a kind of email service, which is way cheaper than Aweber, MailChimp, and other popular email service provider?
What if you don't want to pay additional money monthly if your list size increases?
What if you have all those features available in Aweber and Mailchimp?
This is where Sendy comes in. This review will share the experience with Sendy and how this application saved $1200 monthly in email marketing service.
Sendy Review

Sendy is a self-hosted email newsletter application. It sends email through Amazon SES that runs on MySQL and PHP. It means, you can install the application on your own server directly or your subdomain such as email.yourwebsite.com, instead of relying on other service provider.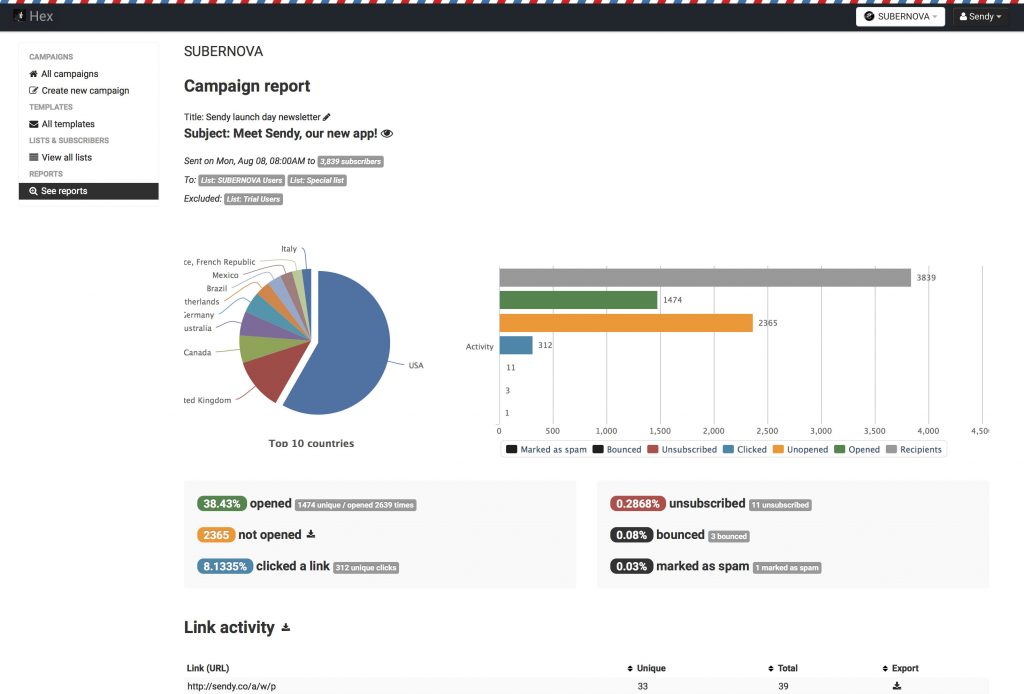 Another interesting fact is that the emails sent via Amazon SES costs only $1 for 10,000 emails. Unfortunately, Amazon does not offer any email service tool to use these features. Sendy comes to help here. It uses its application to incorporate with Amazon SES and sends email through that.
Sendy costs a one-time fee of $59. You are not required to pay monthly. The Sendy onetime fee also includes all the future updates and support from their technical team.
Why choose Sendy and not Aweber, Mailchimp or any other?
The difference lies in that, you have to send mail via your own Server's SMTP with each of the self-hosted application. Essentially, it has an hourly rate and you are restricted to sending limit. Sendy utilizes Amazon SES and there is no hourly limit restriction like your server. Moreover, if you are using your own Server, it is more likely that an email may end up delivering in Spam box. In Amazon SES, normally, not a single mail misses the inbox.
You Can Join Us By Clicking Here!
Features of Sendy:
Essentially, Sendy has all the features that are available in the top email service provider.
There is a cool added feature in Sendy. If you are a company or if you want to provide email service to any of your client, it handles multiple accounts. You can create a separate login for your clients and make a specific list to be visible instead of displaying the entire list.
You really have great control on your list since Sendy uses Amazon SES. You can fiddle around with double and single opt-in list. It's not like Mailchimp where you are not allowed to modify the double opt-in settings.
You get to filter the emails. When a Sendy email is bounced by firewall, it clears up your list mechanically and filters those email from the list the next time you send email to that list. We did another review on an email platform, you can see it by clicking here.
Installing Sendy on your Server
Once you buy Sendy, you get the download package. You need that to upload to your server and start installing it. You will find a detailed guide to help you install the Sendy script on your server. You can link your server to Amazon SES.
You can hire one-time service for only $79 if you need help installing Sendy. However, the Sendy installation procedure is as easy as filling the details. You need to click only three to four buttons.
Sendy's user interface is simple and has all the features. It reports which you need on the home page.
When you log in to your Sendy admin panel, on the left side you will see your Amazon SES Quota. It provides complete information about your email limit and the maximum sending limit per second. First, you have to create a Brand. It allows you to manage multiple accounts. Once it is done, a button will show up. Sendy will help you create and send new campaign. You can create the message using HTML or WYSIWYG editor for your list.
At first you can simply test how it works by sending a test mail to your email address. If everything goes well, you can go out to create a email campaign for your list.
Make Sure You Join Us By Clicking Here
Recent campaigns
You can view all the email campaign results in the reports section. You will be provided with a graphical interface of how the campaign has performed, how many opened the emails, bounced, clicked on a link, not opened, unsubscribed, and so on.
The one disadvantage of Sendy is, as you register for Amazon SES service initially, you restricted to 5 emails per second and 10,000 emails per day. You get Extended Access on request from Amazon.
Before requesting for the extended access you can send some hundreds of emails to your list to make Amazon approve it immediately.
If you a list of about 25,000+ subscribers and you wish to send a mail campaign to that list, in MailChimp, you might end up spending $500 per campaign. However, with Sendy, you spend only about only $3 per email campaign. You can send more than 5 campaigns per month and save more than $1800 per month. You get the choice to import your list from MailChimp or Aweber to your own installation of Sendy.
It is definitely worth considering Sendy if you are looking for a cheap email service provider
You Can See What We Mean And Join Us By Clicking Here!
Aaron and Shara What Do You Suggest?
That being said, if you have never marketed online or offline before, finding people could be very difficult for you.
We know when we first started trying to make money online, we failed miserably and we had no idea how to recruit.
That is why, we first started out by learning how to become a good marketers, but you don't have to be a good marketer at all!
We learned how to make money online WITHOUT being great marketers (Click Here To Stay Updated, And To Find Out More about HOW)!
If you don't want to be in a business that requires you to host home parties or call all your friends and recruit your family to buy your stuff no worries.
We will keep you updated where you can build a business online where you don't have to recruit anyone.
Click Here To Check This Out And See What We Mean
You will learn step by step on how to build a profitable business online WITHOUT having to market or recruit anyone else!