Welcome to our Trinity Mining review.
You might have been approached about the business opportunity and so you landed here to make sure it's legit.
This Trinity Mining review will walk you through the company, products and compensation plan so you can make the right decision.
Find out here if this is legit or a scam.
Trinity Mining Review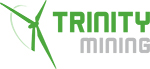 Trinity Mining provides no information on who runs the show.
There is no indication of any management or CEO, CFO, and so on.
The Trinity Mining domain info on trinitymining.tech reveals it was privately registered on February 15th, 2018.
They have provided a corporate address in Panama. However, it's a virtual address.
They are also no traces of Trinity Mining  on social media.
The Products: Trinity Mining Review
As per Trinity Mining, they provide cloud mining as a service and leverage renewable energy. It is done so to power their equipment.
Trinity Mining assert they maintain all their mining machines and source all the needed energy from their solar wind turbines which is preserved in Portugal.
Trinity Mining believe in the prospect of a purely sustainable technology through an inventive incorporation between blockchain and renewable energy.
It sounds great on paper, except there is no evidence of that happening.
In addition Trinity Mining does not have any retail products or services; however you can join as an affiliate and promote their membership.
Keep reading this Trinity Mining review to know about the compensation plan .
Compensation Plan of Trinity Mining
There are 2 main ways to make money with this company.
The 1st way is to invest into their investment opportunity. You get to earn some kind of ROI.
The 2nd way is to sponsor other affiliates in the company who invest.
Investment Trinity Mining Opportunity
As you turn into an Trinity Mining affiliate and invest funds into 1 of their packages, you will get some kind of ROI.
The ROI amount will be determined by which of the packages you invested with below:
Bronze: invest $500 to $1000 and get a 230% yearly ROI
Silver: invest $2500 or more and get a 250% yearly ROI
Gold: invest $5000 or more and get a 275% annual ROI
Platinum – invest $10,000 or more and receive a 325% yearly ROI
You can get credited every day in the back office for the ROI's.
In case you want to withdraw your money early, you will get hit by the following fees:
daily withdrawal: 10% fee
weekly withdrawal: 8% fee
monthly withdrawal: 5% fee
3 month withdrawal: 4% fee
6 month withdrawal: 2% fee
9 month withdrawal: 1% fee
Referral Commission Payout
When a new person is sponsored into Trinity Mining  by you, you can make a referral commission on the investment amount via a unilevel compensation plan structure.
Unlevel are capped to 6 levels by Trinity Mining caps.
The referral commission is a % of the investment amount:
Standard: 30% mining credit on level 1 or 20% commission (personally sponsored affiliates), 10% on level 2 and 5% on level 3
Get others to invest $250,000: 30% on level 1, 15% on level 2, 10% on level 3 and 5% on level 4
Get others to invest $500,000: 30% on level 1, 20% on level 2, 10% on level 3, 5% on level 4 and 2.5% on level 5
Get others to invest $1,000,000: 35% on level 1, 25% on level 2, 15% on level 3, 10% on level 4, 5% on level 5 and 2.5% on level 6
Trinity Mining Membership
It is free to be a member of Trinity Mining. However, you can only earn referral commissions as a free member.
You have to invest at least $500 to be part of  the Trinity Mining investment opportunity where you get paid ROI's.
Verdict on Trinity Mining Review
On paper, Trinity mining sounds great.
Apparently, Trinity Mining are using solar and wind turbines to power their mining rigs in Portugal.
It is great, but the problem is, they are not showing any proof of it.
The ROI's in Trinity Mining are produced by newly invested funds paying off existing members..
In addition, any company that does not reveal that is running it is a big red flag.
Aaron and Shara What Do You Suggest?
That being said, if you have never marketed online or offline before, finding people could be very difficult for you.
We know when we first started trying to make money online, we failed miserably and we had no idea how to recruit.
That is why, we first started out by learning how to become a good marketers, but you don't have to be a good marketer at all!
We learned how to make money online WITHOUT being great marketers (Click Here To Stay Updated, And To Find Out More about HOW)!
If you don't want to be in a business that requires you to host home parties or call all your friends and recruit your family to buy your stuff no worries.
We will keep you updated where you can build a business online where you don't have to recruit anyone.
Click Here To Check This Out And See What We Mean
You will learn step by step on how to build a profitable business online WITHOUT having to market or recruit anyone else!