Looking for a Color Street Review? You're in the right place. Today we are looking at Color Street and we are going to share our full review. If you're wondering whether it's a scam or a legit MLM company keep reading as we will reveal everything. Also we are not an affiliates for Color Street Review so you can expect and honest review and not just another sales pitch like other reviews do!
Color Street Review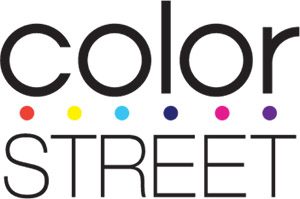 You can earn money with Color Street although it won't be a good fit for everyone. You need to have the right audience. The company handles itself well and provides good product selection and compensation plan.
It is among the better MLMs out there. In spite of the advantages, many would be better off with affiliate marketing instead. Though Color Street may be a decent MLM it is still an MLM. You would have to jump through many hoops to attain success.
Color Street Products
Color Street sells nail polish strips. Their marketing style is similar to that of their competitor Jamberry. You get a package containing the wraps which you cut to size and apply them to your nails.
It allows more complex patterns than you could ever achieve yourself. It's easier to get the wraps right than regular nail polish in theory. So there is less risk of screwing things up.
The Color Street strips are designed to stay in place for roughly 2 weeks once applied. Nevertheless, they will chip and can sometimes be removed. Some people find this better.
You will find 16 Color Street strips in each set. They are longer than you'd need for your nails. Reviewers propose that you can get either 3 or 4 manicures or pedicures from each kit. It depends on the size of your nails and how carefully you cut.
Mostly, Color Street reviews on the nail polish strips are positive. It will take time to learn how to use them efficiently. But, many seem to enjoy them once they do.
Most of the Color Street patterns cost $13 each. The pricing is also sensible. It is quite fair for a product you're going to get at least 2 uses out of or probably more. Compared to Jamberry, the pricing is less expensive.
You will get a wide range of patterns to choose from, including many fun ones.
The Color Street nails also range in complexity. You have patterns costing more but there are also cheaper sets with solid colors. Other styles include French nails, glitter nails, holiday themed nails.
The wide selection makes the products appealing to many. Some love cool styles and unique patterns. Some like more elegant or professional patterns.
In total, there are around 95 different sets on the Color Street site. Jamberry, in contrast has more than 600 products.
The dissimilarity in choice isn't just linked to styles. Jamberry provides several related products, including gel enamels and nail lacquers while Color Street just has the nail polish strips.
Nail polish can be bought in various places, so why attempt to sell it? The wraps are unique and would get people interested.
For Color Street, visitors aren't permitted to view any of the products listed on the website. You have to find a distributor first instead.
Having to do that is annoying. You would want to know if the products are decent before you try to contact someone about them.
Stay Updated With Exclusive Information About Cryptocurrency
This Will NOT Be Anything We Post Here!
Is Color Street A Good Business Opportunity?
With Color Street there are 2 basic ideas. First is to make sales. Second is to build a team.
First, you make 25% for sales you make which is paid out weekly.
The catch is the Color Street products are reasonably priced. You need to make more sales to get a fair level of commission.
You also get bonuses for Color Street sales volume. You can earn up to 10% in extra commission if you hit monthly targets. $600 if the lowest target. It is quite high if you consider that each set of nails costs $15 or less. Nevertheless, there is a bonus for sales that some companies don't offer.
People purchasing from you can turn out to be Preferred Customers with Color Street. They have to make automatic monthly orders and receive a 10% discount. Your commission drops to 15% with that. It isn't appealing. Some customers may settle being a Preferred Member for a long period and you receive commissions automatically from each sale.
Effectively Making Sales with Color Street
The way you make sales with Color Street is a related aspect. Different techniques are used by direct marketing companies and some are more powerful than others.
You get a replicated website from Color Street In this case, which customers can purchase directly from. Although they offer a little bit of personal information these sites are mostly the same for each distributor.
You can't expect to rank them on search engines and get sales that way since the sites are mostly alike. Nevertheless, you have tools. You can build your own website for instance, and use that to direct traffic to your Color Street store. To gain interest you could also use social media marketing.
You're not likely to get the training you need from Color Street though this can work well. Companies of this type frequently provide basic training. They teach you how to get the website running and about sharing on social media. And that's all.
You will never find detailed information about SEO. They won't teach you to rise above the competition. You don't get the training needed to excel though you get the tools to reach a much wider audience.
If you would rather skip all the hassle and use your own site to sell Color Street products directly, it will involve much less legwork. You can avoid dealing with a complex compensation plan too. You also have the choice to pick Color Street products to promote from many diverse affiliate programs.
Websites work well for selling products whatever direction you choose. You are not required to keep any physical products in stock. You get the option to reach a wider audience. This idea is convenient for customers too.
Several MLMs permit people to buy off their website. They bypass distributors altogether. It isn't so with Color Street. In case you get someone interested, probably they will keep purchasing products from you.
You are facing competition speaking of sales, but not as much as with other industries. Jamberry sells nail wraps for instance. There are less popular brands being sold on Amazon and other sites. Even your local stores may even have some.
Yet, this is nothing if you were attempting to sell eyeshadow or necklaces. Color Street's nail sets are more costly but not excessively so. They are quite competitive and people will pay more for a brand that they trust.
Color Street also offers a party component. You host events at the friends' houses and use these as a means to get sales.
It is a more demanding and stressful process than Color Street implies. But, parties can work well for sales in fairness. For Color Street it is really true, as the events allow you to show that the products actually work as advertised.
Just be cautious. Nearly all the Color Street parties will require you to show off the products and let people try them out. You will have to pay for the products used.
All things considered, the Color Street nail polish strips wouldn't be the easiest product to sell. You also require an interested audience. However, the sales potential is higher than many other companies. It is also a consumable product. It is inexpensive and promises a little bit of fun.
As long as you put the work in, it's easy to see how you could make sales.
The Team Building Aspect
In case you can't regularly make sales, the remaining compensation plan doesn't matter at all.
Making money from a team is the next aspect. It implies recruiting others into the Color Street and asking them to do the same. Your focus should shift from making sales to managing your team over time, as your team grows larger, as per the design.
The motive behind this is there is more possibility for income from your team. It would be almost impossible to earn a full-time wage from sales alone. You require an enormously large audience. You also need people who frequently buy many kits at a time.
You get to earn a little bit from their success with a team. If your team members go out, host events and make sales, you earn from their work. The number of people you can earn from increases as your team grows larger. There is more potential for bonuses if your team becomes larger.
Color Street uses a rank system for instance. You earn more bonuses from recruiting others as you progress up through the ranks, and you get Leadership Level Bonuses.
Level one hosts people you recruit; Level two hosts people they recruit and it continues. You earn 3% of the sales from each of those levels, excluding other bonuses.
It sounds amazing on paper.
However, in reality to grow a large team, you have to recruit at least a few people. Some of them would need to be successful at least and recruit others. In the long-term everyone has to keep recruiting and making sales.
It is hard. Many who join an MLM leaves in the 1st year. Many drop out in the first few months. Recruited members often come from the same social circle too. It builds a competitive situation.
It is not good for long-term sustainability.
Many bonuses are linked with those ranks. You have to move them up to earn decent income. All the ranks have specific requirements related to team structure and overall sales. It also includes the ranks of your team members.
Thus, income potential is very high. However, you can progress far enough which most people can't.
Color Street Review – Conclusion
Color Street is among better MLMs.
However, it offers a complex commission structure. There is also the need to focus on team building.
It's important to own your own website to grow your business whatever type of product you decide to promote.
Parties only attain success if you have a network of friends with cash. Network marketing only gets successful if your friends love to join business opportunities. We did another review on a company that operates in a similar niche, you can read that review here.
You can reach the entire world with a website. You will be able to promote only great Color Street products to people interested in what you have to say. Moreover, you make way for multiple streams of revenue like paid advertising, ad click revenue, affiliate sales, and even selling your own digital products.
Stay Updated With Exclusive Information About Cryptocurrency
This Will NOT Be Anything We Post Here!
Aaron and Shara What Do You Suggest?
That being said, if you have never marketed online or offline before, finding people could be very difficult for you.
We know when we first started trying to make money online, we failed miserably and we had no idea how to recruit.
That is why, we first started out by learning how to become a good marketers, but you don't have to be a good marketer at all!
We learned how to make money online WITHOUT being great marketers (Click Here To Stay Updated, And To Find Out More about HOW)!
If you don't want to be in a business that requires you to host home parties or call all your friends and recruit your family to buy your stuff no worries.
We will keep you updated where you can build a business online where you don't have to recruit anyone.
Click Here To Check This Out And See What We Mean
You will learn step by step on how to build a profitable business online WITHOUT having to market or recruit anyone else!