Looking for a GB21 Review? You're in the right place. Today we are looking at GB21 and we are going to share our full review. If you're wondering whether it's a scam or a legit company keep reading as we will reveal everything.
It is well known that there is rising demand for cryptocurrencies all over the world. It is becoming more and more difficult to mine digital coins from the comfort of your home. The basic computational needs becoming more complex and there are also a variety of regulatory laws that are making it more difficult to mine currencies in a sustainable, hassle free manner.
GB21 Review – Understanding The Company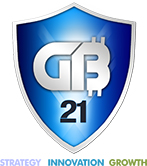 Mainly, GB21 is a crypto mining service. It cites that it possesses some of the largest mining farms at present in the world. But, there is no data to prove it.
You will find various investment choices that are offered to GB21 customers including:
Mining: The Company claims to mine cryptocurrencies. It is done on behalf of their investors by means of smart algorithmic procedures.
Trading: The official website of GB21maintains that it uses an automated bot to aid trade on our behalf. Yet, there are no details regarding the bot.
You will find many grammatical errors strewn all across the GB21 webpage though the website is rather lavish in its complexity. Moreover, there is a lot of technical jargon used to describe simple details. It makes it tough to determine whether the GB21 project is legitimate or not. We did another review on a mining company and you can check it out here.
Stay Updated With Exclusive Information About Cryptocurrency
This Will NOT Be Anything We Post Here!
Cryptocurrency Mining, Bot Trading & Staking Key Issues
Lack of Critical Details:
You won't find details of any company GB21 members, founders etc. Also, there is no physical address given on the website.
Hidden Identities:
There are no names of any people linked to this project. All the identities have been hidden by means of 'third party protection tools'.
Domain Registration Details:
Though the website has been registered since 2013, as per the website, it began its operations in 2015. It points out that this project might actually be legitimate.
Little Known History:
There are fewer details about what earlier projects, schemes GB21 has been linked with though the company has been around for nearly 3 years now.
GB21 Review – Other Details
Mining Farms:
GB21 maintains they have mining farms situated in China as per their website. But, strangely, the location of these farms is not available.
Multi Currency Support:
GB21 maintains they support a variety of alt currencies including  Ethereum, Bitcoin, Litecoin and many more.
What GB21 Offers
Crypto trading: It maintains they use a proprietary bot designed to make smart trades on our behalf. While, The bot has already been listed under the 'products tab' on the website though they claim that the bot is still in its development phase.
Staking: GB21 cites they have joined hands with MCAPLABS, another company. It aims to aid users stake their assets in a sensible manner.
GB21 Investment Packages
Primarily, there are 2 different investment packages that users can avail. Customers can invest in systems in the 1st offering. It presents them with hashing power that permits altcoin mining. Likewise, the 2nd package is a mining investment scheme. It ranges from $100 to $1000. Finally, the website asks for a minimum of $100 to a maximum of $450,000 per contract for MCAP investors.
GB21 Review – Conclusion
Though GB21 crypto mining does not seem to be an outright scam, potential customers should walk carefully when investing hefty sums of money into GB21. Users have to simply click on the "sign up" button on the homepage in order to register. The process is quite straightforward. It can be completed within 10 minutes. It is also recommended that investors ask a lot of questions to the company representatives before investing their money in. You can send in an email to address provided on the "contact us page".
Stay Updated With Exclusive Information About Cryptocurrency
This Will NOT Be Anything We Post Here!
Aaron and Shara What Do You Suggest?
That being said, if you have never marketed online or offline before, finding people could be very difficult for you.
We know when we first started trying to make money online, we failed miserably and we had no idea how to recruit.
That is why, we first started out by learning how to become a good marketers, but you don't have to be a good marketer at all!
We learned how to make money online WITHOUT being great marketers (Click Here To Stay Updated, And To Find Out More about HOW)!
If you don't want to be in a business that requires you to host home parties or call all your friends and recruit your family to buy your stuff no worries.
We will keep you updated where you can build a business online where you don't have to recruit anyone.
Click Here To Check This Out And See What We Mean
You will learn step by step on how to build a profitable business online WITHOUT having to market or recruit anyone else!