Affiliate marketing requires patience, and this is one of the reasons, why most newbie affiliate marketers fail. They expect success overnight.
Many people have taken up affiliate marketing every year, hoping to make their fortunes. Little do they realize that an equal number of people give up affiliate marketing each year. People fail because they are misled by the experts telling them how simple it is to make money with affiliate marketing.
As a result, they all sign up for multiple affiliate programs and do something to begin promoting a few of those links. A few of them will go that extra mile to perhaps set up a website or a blog. However, very few of us end up as full-time affiliate marketers.
What Is It That Makes Those Few Stand Out?
Well… call it mainly tenacity or persistence, and of course sharing plenty of optimized, quality content. They know that affiliate marketing requires patience. They also know that affiliate marketing is not a get rich quick scheme, nor it is something that is push button easy.
But, we can tell you that it is one helluva way to build a business, and make a living online.
Most Of All… Affiliate Marketing Requires Patience.
Successful affiliate marketing businesses are not built overnight. It takes time. Hence, it is important that you don't give it up after a few failures… In short, it requires patience.
It is true that you can make a lot of passive income with this business mode. However, one of the disadvantages of affiliate marketing is that you put considerable effort, without seeing any returns for quite some time. Most people call it quits and fold up. It is here you've got to stick it out.
Do NOT get disillusioned. Set a GOAL. Basic goals, such as generating affiliate checks or online income to meet your internet expenses. Then the cable expenses, food expenses, utilities, car payment and so on.
Regular Quality Content Is What Matters.
It is very important to set up a blog and start sharing content regularly. Quality blog posts, image, videos and post them on your blog. People come to your blog for help and your expertise. Therefore, emphasis on quality should be paramount.
Because as you move forward, more and more importance must be put on quality content. Your blog is the first place that potential readers, subscribers, and buyers connect and interact with you.
Obviously, you would want to make a good impression.'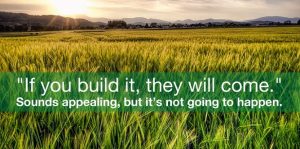 The Concept OF Build It And They Will Come Will Not Work.
It might work in movies, but affiliate marketing is a different "ball game" (pardon the pun). In fact, we liked the movie very much.
Moist affiliate marketers, initially put all their time and effort to building their site or blog They will get down to writing numerous articles, all optimized, monetized with great affiliate offers, but with NO TRAFFIC!
The famous line from the movie "FIELD OF DREAMS," build it and they will come, will just not work. IT IS THE OTHER WAY AROUND. If you SELL IT, THEY WILL COME.
Therefore, market your blog and site well. Try spending more time on sites other than yours. Identify methods they use to market their blogs and sites. Connect with other successful bloggers. Be active and spend more time on social media. Then write GOOD articles, related to your niche and spread the word about your blog/ site. And people will start to find you!
Set Aside A Daily Schedule.
Set aside about 30 minutes every day for the next sixty days. Write some quality blog posts. Include some good images and optimize your content well. Do some content marketing, and post links of each blog post on the social media sites that you are active on. If possible, try to record some videos and upload them to YouTube with links to your blog…
Basically, it doesn't matter what you do but test the next TWO months, and check your affiliate status after sixty days.
We are sure that not only your TRAFFIC will increase but your affiliate income will also grow.
Related Posts.
Best.. 🙂
Follow Us on Social Media Below (We are a Real People :)):
Subscribe To Our YouTube Channel Here
Thanks!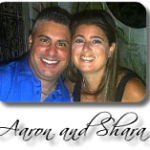 Whatever you do, don't give up… Just keep in mind that affiliate marketing requires patience.