The 50 most popular keywords In 2016 that were searched the most during the early half of 2016 are given below. Although Google search terms are of help, there is a lot more going out there.
We decided to do a little research to identify which of the keywords are being searched the most and which of the blogs that are bringing in most searches
When we included the word 'blog' to each of the blog niches, the results were interesting. Alright, let's take a peep!
The list has several interesting insights. It's interesting to note that most of the popular ones were single-letter terms.
Another surprising factor is that the most common reoccurrence throughout the group is the multiple uses of the word, f "LOCATION lottery." Pointless, but people do want to get rich fast!
Now what are the most popular keywords commonly searched  on Google?
The branded sites, such as Craigslist and Gmail are frequently searched, and are a common point of reference
Surprisingly the non-brands and true keywords that, undoubtedly, are the aim of many traffic-thirsty SEOs across the world did not feature much.
Attached is a feedback from keyword research tool – SEMRush
The below visualization is a list of the 50 most searched for non-branded keywords on Google, mainly from the United States.
Source 1 – SEMrush Competitive Data
Source 2 –  Siege Media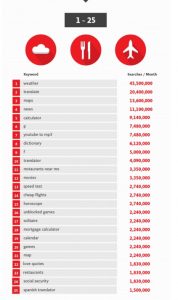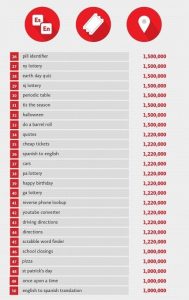 The list was determined by manually selecting the most popular search terms, which were not connected to any brand. Also, no porn-related keywords were considered.
The top five most searched overall are Gmail, Yahoo, Amazon, Craigslist, and Porn. Hence none of these are included the below list for obvious reasons.
Surprise inclusions were the Internet Speed Test, and What Time Is It keywords.
It is obvious that these search terms will change with the times.
People will always search for weather conditions, but the internet speed test would likely die down with the advent of taster internet.
Incidentally, I wonder how the term, YouTube ranks!
The landscape may change, but it's a strong certainty these numbers will only continue to climb. With that, strong SEO will continue be of high importance.
What keywords on the list stood out as particularly interesting to you? Let us know in the comments.
Although the 50 most popular keywords in 2016 may be of help, these terms change with time and it is good content that always bring in the traffic.
Related Posts.
Best,
Follow Us on Social Media Below (We are a Real People :)):
Subscribe To Our YouTube Channel Here
Thanks!